Share
Close
Yogic Deities and Hindu Philosophy
$450
•
Purchase required to enroll
Heart of the Village Yoga Advanced Studies and Yoga Teacher Training Weekend*
with Jo Kirsch, E-RYT 500, Bob Speck, E-RYT 200, RYT 500; Pam Fletcher, PT, RYT 200; and Guest Teacher Manoj Chalam
October 19 - 21, 2018
$450
Register a week in advance for 5% off. Use Coupon Code: HOTVYOGATT
Members: Register a week in advance for 10% off. Use Coupon Code: HOTVYOGATT10
Friday night and Saturday afternoon of this Weekend is Philosophy and Storytelling with Manoj Chalam. Using statues to illustrate, Manoj will relate the symbolism of Hindu and Buddhist deities to the archetypes within us. Through mythology, we will uncover hidden symbolisms and learn the four ways to work with them as part of a spiritual practice. Manoj will help you find your Archetype/ personal deity/Ishtadevata. Discover how knowing and working with your archetypes can profoundly shift you, especially during moments of life transitions, and how these ancient teachings have practical relevance to your life, bringing peace of mind. Learn how the Lakshmi archetype addresses where you are in the Abraham Maslow hierarchy of needs. We will do experiential practices that invoke the powerful Lakshmi archetype from the collective unconscious all the way into our conscience minds.
A Core Weekend of Heart of the Village Yoga's Advanced Studies and Teacher Training, this weekend will embrace multiple aspects of our curriculum including flow, yin and gentle yoga, teaching methodology, practice teaching, posture modifications and sequencing, philosophy, anatomy and physiology, meditation, breath work, nature focus, and chanting. Workshop Hours are 6am - 9pm, Friday; 9am - 6pm, Saturday; and 8am - 5pm Sunday.
Our programs build community by integrating Karma, Raja, Jnana and Bhakti Yoga. These programs are intended to build community by providing opportunities for yoga teachers and dedicated yoga practitioners to deepen their practice, expand their heart, and raise their knowledge. They are suitable for dedicated practitioners with an open heart and a willing mind. Together, we will study and practice the yoga of action, intention, knowledge and devotion.
21 CEU's are available through Yoga Alliance.

*With additional hours, this is a Heart of the Village Yoga Advanced Studies and Teacher Training Core Weekend.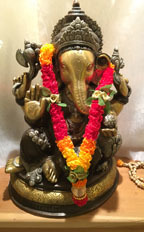 Course Instructor Manoj Chalam, PhD,
uses humor and personal anecdotes in his lectures and workshops to illuminate Hindu mythology. An Indian-born scientist with a PhD fro Cornell University, Manoj helps individuals ind their archetypes in Hindu Yogic deities and teaches the 4 ways to work with an archetype as a Vedantic practice. He has also compiled a book on the symbolisms of Hindu and Buddhist deities. Manoj presents workshops on Hindu symbolisms and Vedanta at yoga studios, keynotes at festivals, yoga journal conferences, ashrams and universities.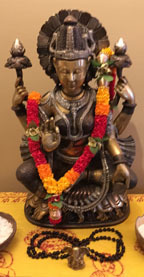 Schedule